restore & maintain optimal health
the gonstead chiropractic advantage
If you're new to our office, take advantage of our New Patient Special!
Conveniently Located in the Central Business District!
Chiropractor Singapore
Welcome to Chiropractic Concepts located in Funan Mall, in the heart of Singapore CBD. When looking for a chiropractor in Singapore, you want an experienced chiropractor who has provided effective results. Chiropractic is a fantastic healthcare profession, yet not many people understand how we can help. Let us aid you in your search for a solution to your pain and get the best out of your health.
CHIROPRACTIC CONCEPTS
Dr. Shaun and Dr. Chua are dedicated to serving individuals and families in Singapore. They're not just chiropractors though, they work out, play sports and work as you do. Understanding your problem at a deeper level is what sets them apart from most other chiropractors. We don't just hear, we listen to you.
We're located right in the CBD of Singapore. You can reach Funan mall easily through Singapore's efficient public transport network of buses and trains. City Hall MRT is short of a leisurely 8-minutes walk to Funan Mall, and several bus stops are found in its immediate vicinity. Funan Mall has just about anything you may need, so a day spent here will be fun for everyone in the family.
THE GONSTEAD SYSTEM
Your health and goals are our first priority at Chiropractic Concepts. We employ Gonstead chiropractic and Functional Rehabilitation to our patients who need it because we have found these to be the most effective and efficient ways of reaching your health goals.
The Gonstead System is spectacular at dealing with ailments relating to the spine, muscles, and joints due to its extremely detailed diagnostic process and specific care. Coupled with Functional Rehabilitation has produced amazing results for those with both new and long term issues, helping them get better and stay healthier for longer.
How we can help
Pain can be frustrating, disabling, and stressful. Don't let it ruin your day. Patients have found staggering improvements with pains in the back, neck, shoulder, ankle, or any other area. Those with issues such as headaches, dizziness, and numbness or tingling have also found jaw-dropping results.
Chiropractic sets itself apart from other forms of Alternative Medicine through its methods of analysis and correction, as well as the focus of our care. You don't come to us to have your spine cracked, you come to us to have your nervous system taken care of! In turn, it will function better and take care of you.
As with most natural changes, healing takes time and so we cannot offer the promise of immediate healing. Your habits and efforts also play a major role in your healing and will impact the results of our care.
Are you ready to take your journey to health with us? You can reach out to us through
+65 9062 9776, also available through WhatsApp. You can also get your weekly dose of health and chiropractic info on our Facebook page. Drop us a message for more information. Our team at Chiropractic Concepts also takes pride in educating the public, so no questions will be turned away!
---
Trauma, Toxins, and Thoughts Concept
The disease is due to the 3 'T's - Trauma, Toxins, Thoughts. Health, however, is not the absence of disease, but the body's ability to perform at its best. Along with a good lifestyle, the body has an in-built mechanism to heal. Chiropractors fix the spine and influence the nervous system, we do not treat symptoms, diseases, or conditions.
Chiropractic is not a substitute for medical care, neither is medical (and other forms of healthcare) a substitute for chiropractic. Chiropractic is more than just a treatment; it is an all-natural lifestyle. If you want a chiropractic team you can trust 100 percent, then look to us at Chiropractic Concepts. Don't hesitate to contact our team in Singapore for any questions you may have. Your health is our main objective.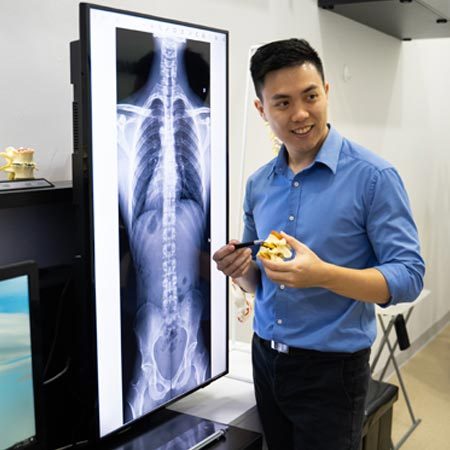 Components of the Gonstead System